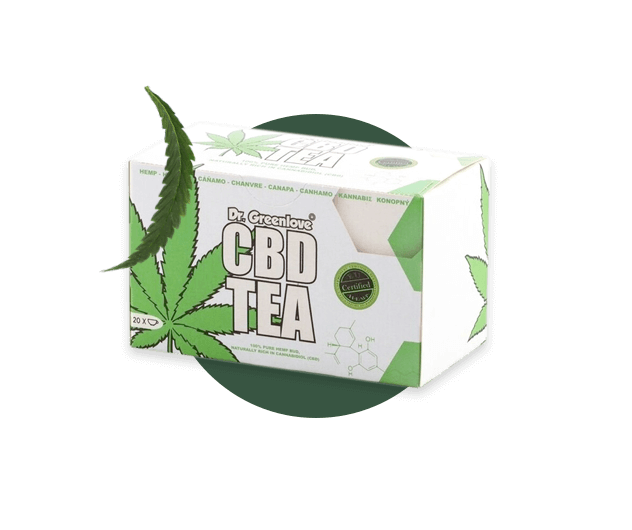 CBD Tea
CBD cannabis tea (cannabidiol) is a unique way to receive CBD! Either by a hot brew from flowers (buds) of dried industrial cannabis or by a teabag of Cannabis Sativa L flower trims combined with many therapeutic plants and herbs.
Cannabis tea is 100% organic and legal (0,2% TCH) and rich in cannabidiol (CBD). It has a smooth calming and relaxing effect for your organism, relieving you from stress, sleep problems, and anxiety.
It is rich in antioxidants and it is also anti-inflammatory. What can be better than enjoying your tea with all the unique benefits of the cannabis plant?!
-5%

Trompetol Hemp Herb XQ – 30gr.

€

24.80

-27%

Trompetol Hemp Herb AQ CBD Tea – 40gr

€

16.90

Organic Raw Hemp Flowers – 30gr

€

9.90

-25%

Organic Raw Hemp Flowers – 25gr

€

8.90

Elixir Tea Kannabio – 10pcs

€

4.99

Cannabis CBD Tea | Dr. Greenlove – 20pcs

€

11.00

Cannabis CBD Bud Tea Natural

€

10.50
Subscribe to our Newsletter to receive unique offers and news!
COOKIES POLICY
Our site uses cookies so that we can provide you with better services. By continuing browsing, you agree to the
Terms of Use
.
Welcome to Hempoil®
The First official CBD store in Greece
The content of this website is intended for adults only. If you are over 18 years old please confirm.
You have to be over 18 years old in order to use this website