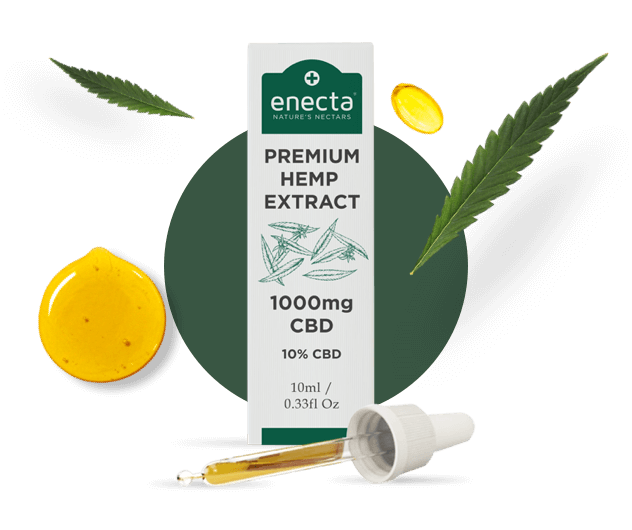 Cannabis Oil - (CBD Oil - Raw CBD/CBDa)
Cannabis Oil (CBD oil, Cannabidiol) and Raw CBD and CBDa have now become the number 1 cannabis products in Greece.
In relation to prevention, fortification, and endurance of the human organism and its health, in an effective and natural way. They are vailable in various amounts of CBD content.
They include cold extracted Cannabis Sativa L. oil (Hemp Oil), vitamin E, Omega 3 terpenes, tocopherols, and many other natural hydrocarbons and cannabis plant particles. It is totally safe, certified (CMP) and legal. CBD oil is easy to use by dropper or spraying can, having a great vegetable flavor.
Cannabis Oil (CBD) has a lot of beneficial properties and can be used as a natural dietary supplement or for soothing during the treatment of various diseases and skin conditions.
Enecta 10% CBD Oil (1000mg) – 10ml

€

49.95

Enecta 24% CBD Oil 2400mg – 10ml

€

119.00

Enecta 3% CBD Oil 300mg – 10ml

€

19.95

-30%

Enecta C300 – 3% CBD Oil – 300mg

€

26.40

Enecta C1000 – 10% CBD Oil – 1000mg

€

64.90

Enecta C2400 – 24% CBD Oil 2400mg – 10ml

€

152.90

Enecta 10% CBD Oil (3000mg) – 30ml

€

128.95
Subscribe to our Newsletter to receive unique offers and news!
COOKIES POLICY
Our site uses cookies so that we can provide you with better services. By continuing browsing, you agree to the
Terms of Use
.
Welcome to Hempoil®
The First official CBD store in Greece
The content of this website is intended for adults only. If you are over 18 years old please confirm.
You have to be over 18 years old in order to use this website